Calves and quad-cores: Snapdragon S4 Pro vs Samsung Exynos 4412 vs Huawei K3V2 vs NVIDIA Tegra 3
41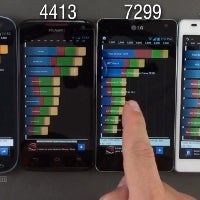 While we can argue until we are blue in the face whether quad-core mobile processors are anything to boast about in your handset compared to their dual-core counterparts, it is certainly a great marketing tool for companies, so we can expect more and more of these to enter mainstream handsets.
That is why we gathered the existing quad-core mobile chipsets at the office table, and ran a few standard benchmark tests to decide who is who in the world of multicore. Of notable absence are the overclocked 1.6 GHz Exynos 4412 in the
Note II
and 1.7 GHz Tegra 3+ in the
HTC One X+
. These would certainly perform better than their basic versions, but are not actually a different processor family, just one with a 0.2 GHz step overclock, so we wanted to stick with stock.
As you can see from the results in the video below, all except one deliver a similar performance, with Huawei's processor delivering a pleasant surprise in the graphics department, and the Exynos proving to be a great all-arounder.
The big outlier is the
S4 Pro
, however, and we have to admit that Qualcomm has done a great job with this processor, whose cores are using instructions from the Cortex-A15 architecture of ARM, just like
Apple's newly-minted A6 processor
. The weakest performer most of the time was the Tegra 3 chip, which can be expected, as it was the first quad-core processor announced, and is done with the older 40nm process.
Next week is rumored to see the unveiling of a
Samsung Nexus tablet
with the real-deal Cortex-A15 processor of the Exynos 5-series, so we can't wait to see the benchmarks from that one.