NVIDIA roadmap shows Tegra 4 coming to market in Q1 of 2013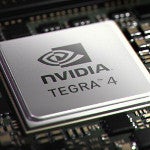 A roadmap said to show NVIDIA's intentions about the
quad-core Tegra 4
has been obtained by Chinese site VR-Zone. If authentic, the map shows four different variants, three of which have an ARM Cortex A15 architecture. The first version of the Tegra 4, the T40, is due out during the first quarter of next year and will be clocked at 1.8GHz. The remaining three variants are expected to hit the market during the third quarter of 2013 and includes a model running at 2.0GHz.
The most interesting variant of the Tegra 4 appears to be the SP3X. This version has an ARM Cortex A9 configuration with a clock range of 1.2 to 2.0GHz. But most importantly, this Tegra 4 model
seems to support LTE
. You might recall that it is the lack of such support on the current iteration of the NVIDIA Tegra 3
that kept quad-core performance out of AT&T's version of the HTC One X
.
While it is nice to have this roadmap laid out in front of us, we remind you that healthy bit of skepticism might be in order here.
source:
VR-Zone
(translated) via
Engadget