Myriad to increase Android app speed by 3X bringing better graphics and longer battery life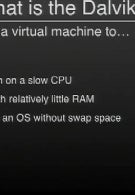 Android users can start looking forward to games and apps with better graphics, more complexity and with better battery life. This all became possible when the Myriad Group announced the high performance Dalvik Turbo virtual machine which replaces the standard Dalvik engine that currently powers apps on Android. The Dalvik Turbo increases the execution speed of Android apps by up to 3 times which will allow OEMs and operators to offer more complex apps while saving battery life. Newly created games will be compatible with existing Android software and still boast of advanced graphics and complex models using all the advantages that the Android OS provides. And despite all of this, the memory requirements do not need to be changed.
Myriad's CEO, Simon Wilkinson, said, "The Android ecosystem continues to gain momentum with a regular flow ofnew devices being launched by operators and OEMs globally. By bringing together Myriad's heritagein virtual machines and Linux platforms we have been able tosignificantly improve the performance of Android handsets, leading to agreatly enhanced user experience with richer applications and games andimproved responsiveness." For Android users, this is certainly exciting news and gives them something to really look forward to. So let the game and app developers get to work on fulfilling the promises of Android.
source:
MyriadGroup
via
UnwiredView