Motorola updates the DROID RAZR M, brings improvements to the camera, Wi-Fi, and more
9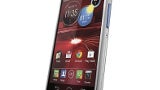 If you thought Verizon and Motorola have forgotten about your DROID RAZR M, you're wrong! Verizon is now rolling out a software update for the handset which will bump the software version to 98.15.66.XT907.Verizon.en.US. The update doesn't contain Android 4.2, but that shouldn't bother you much having in mind the phone already runs 4.1 Jelly Bean, so you aren't missing any major features.
Instead, this update will fix a number of bugs, as well as improve some aspects of the smartphone. Here's the changelog:
Improved Wi-Fi connectivity
Voice volume has been improved at set level
Camera improvements in touch-to-focus, notifications and low light performance
In-call audio is routed to ear piece while connected to headset has been improved
Video streaming pixelation has been improved
Support for Mobile Device Management has been improved
Media sync with Back Up Assistant Plus has been improved
Visual Voicemail connectivity improvements have been made
By the looks of it, a pretty decent list of enhancements, so what are you waiting for? Go into your Settings and start mashing that Update button! If you don't get the new software momentarily, though, don't panic, it might take a while, as the update is probably being rolled out in stages.
source: VerizonWireless via AndroidCentral