Motorola Moto G6 Plus press render shows all available color options
7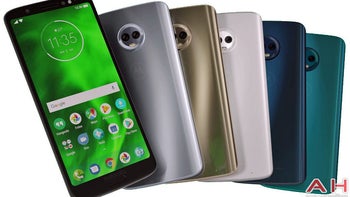 The
Moto G6 Plus
is one of the many smartphones Motorola plans to introduce in the first half of the year. It remains to be seen whether we're going to see these new products at Mobile World Congress (MWC) 2018 in February or rather later this spring.
Unfortunately for Motorola,
most of its 2018 lineup leaked back in January
, so if you've been waiting for a certain smartphone from the US company's portfolio, you now have all the information you need.
At least three entry-level and mid-range smartphones are coming from Motorola year:
Moto G6
, Moto G6 Plus and
Moto G6 Play
. Details about all three made headlines last month, along with pictures of the entire lineup.
The Moto G6 Plus, in particular, is expected to arrive in multiple color options, which you can see in the picture attached to the article: Blue, Cyan, Gold, Silver, and White.
As many of you probably know by now, the Moto G6 Plus is a purely mid-range device equipped with a
Snapdragon 630
processor and 3GB/4GB/6GB RAM. The 5.93-inch FHD+ display features 18:9 aspect ratio, while on the back side a dual-camera setup and a fingerprint sensor can be found.
The Moto G6 Plus is expected to go on sale for around $330, but that will highly depend on the version you buy. We have yet to learn when the smartphone will be introduced, but at least you now know what to expect.