Motorola Moto 360 successor likely to come in two sizes
5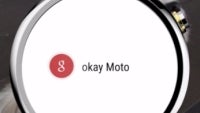 It looks like Motorola can't keep the second-generation Moto 360 from leaking in various places online. Following a few spottings of a new Motorola smartwatch in the
databases of regulatory organisms
in past weeks, just a few days ago, Motorola may have allowed
a sneak peak at the Moto 360 successor
. A new leak, also from a regulatory agency, reveals that the Motorola Moto 360 is very likely to come in two size versions.
Antel, a Brazilian agency that approves radio-bearing electronic devices, recently published information on two currently unknown Motorola smartwatches called the Motorola Moto 360S and the Motorola Moto 360L. Aside from the suggestive names, another reason to think that the Lenovo-owned company will launch its upcoming digital wrist piece in two sizes is the fact that the Moto 360S is listed to carry a 270mAh battery, while the Moto 360L will boast a 375mAh unit. Aside from the rather unlikely event that we're looking at a slimmer and a thicker version of the wearable, the only explanation is a difference in screen size. At the moment, we can't tell if these are just codenames or the actual names of the two second-generation Moto 360 versions, although the former is more probable.
Back when the original
Motorola Moto 360
was launched last year, it was the first Android Wear smartwatch to make use of a rounded form factor, although the display itself was not completely circular. Near the bottom bezel, a dead oval portion can be spotted, one where Motorola has placed the sensor. Despite the fact that both Huawei and LG launched smartwatches with fully circular displays in the meantime, a recent Motorola leak showed that the flat tire design might be back for a second spin.
At the rate that the new Motorola smartwatch has been surfacing online in the past weeks, there's reason to think that the official unveiling couldn't be too far off. With IFA 2015 scheduled to start on September 4th in Berlin, it wouldn't be unreasonable to think that the event will bring us the official introduction of the second-gen Moto 360.