Motorola Moto 360 hands-on
64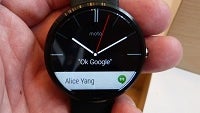 Alas, while Motorola graced us with a presence to look at their beautiful smartwatch, the Moto 360, the reps were mum on all details about the device.
It is a lightweight device, and its different looks from the "square" devices on display from LG and Samsung add all the more intrigue to the little Moto. Even though the Motorola representatives were not able to share any details about the slick looking watch, were able to glean plenty from our brief time looking at it.
First, it is distinct among the Android Wear devices on display in that it has the classic round watch form factor, and that is a nice touch. Second, the round display does not seem to lose anything in terms of too much "wasted" display space that might be more efficiently served up by a square or rectangular panel.
Unlike the other two units on display though, the Moto 360 is not ready for prime time just yet, it will be available later this summer whereas, the LG G Watch and Samsung Gear Live are available for pre-order now.
The Moto 360 will come with a near suede-looking leather wrist strap which looks nice, and we presume that it has been treated to resist degradation due to body sweat and the elements. There is a single home button on the side were the crown of a traditional watch would be.
The display is wonderful looking. The images and text, even the small icons on the "watch face," look clean. The demo mode worked without incident, just as smooth as the other devices from LG and Samsung.
That leads us to some predictions about the specs that are "officially" mum. The hardware under the hood is probably the same as what is found on the other Android Wear devices, a Qualcomm Snapdragon 400 CPU. There is probably 512MB of RAM and 4GB of storage. None of that is "official," mind you, we are surmising that based on the other devices having identical spec sheets save for the display size, resolution, and heart rate monitor.
Why added intrigue for the Moto 360? Well it could be the fact that it is round, and it could also be the fact that we cannot have one yet. Will all the attention be worth it? We think so, but not if we are made to wait too long for it to come to market. Technology waits on no man, smartphone, or smartwatch. The Moto 360 is a nice looking device, it needs to be on shelves soon. "Soon," we are told, is later this summer.
Check back with us as we will be getting a more in-depth demonstration of the Moto 360 during day two of Google I/O.