Motorola DROID Ultra, Maxx, Mini won't get updated to Lollipop; discounts offered instead
31
Motorola has announced today that the
Motorola DROID Ultra
,
Motorola DROID Maxx
and the
Motorola DROID Mini
will not be receiving the update to Android 5.0 as originally planned. The bad news was posted in a Google + account owned by David Schuster, Senior Director, Software Product Management at Motorola.
Motorola is trying to curry favor with those who own one of those three models by offering them a discount on the
Motorola DROID Turbo 2
and the
Motorola DROID Maxx 2
. With this special deal, the DROID Turbo 2 is priced at $524. That is a $100 price break on the first smartphone with an unbreakable screen.
If the DROID Turbo 2 is too much of a phone for you, you can decide to take advantage of Motorola's special offer on the Motorola DROID Maxx 2. Normally $384, Motorola will take $50 off for those Ultra, Maxx and Mini owners who won't be getting Android 5.0 on their phone.
You can't really put a price on an update, but Motorola is figuring that missing out on Android 5.0 is worth between $50 and $100 to owners of those three phones that will be stuck with Android 4.4 forever. You can take advantage of what Motorola is offering by clicking on the sourcelink and filling out the form provided by Motorola. All you need in the way of information is the unique IMEI number assigned to each individual model, your phone number, and the serial number of your DROID Ultra, DROID Maxx or DROID Mini.
Requests for a coupon code must be received by May 19th. The code must be used by June 2.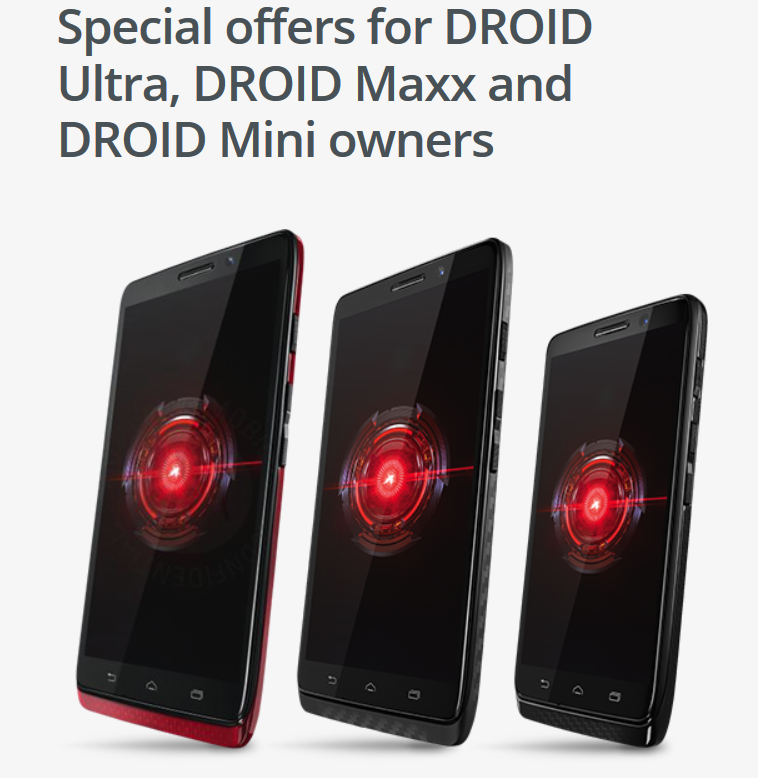 From L to R, the Motorola Ultra, Motorola DROID Maxx and the Motorola Mini will not be getting updated to Android 5.0. Those who own one of these models will receive a special discount on two of Motorola's current phones
source:
Motorola
via
+DavidSchuister
,
AndroidandMe