Motorola DEFY+ JCB limited edition lands in the U.K.
0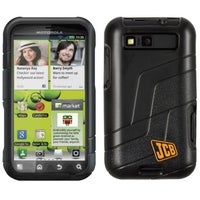 What is black, tough, and carriers a JCB logo on its back? No, it is not a piece of heavy machinery that we are dealing with here. We are talking about the
limited edition Motorola DEFY+
, which just got announced.
What makes the Motorola DEFY+ limited edition different from the standard model is that it is coated with an extra layer of armor making it even more suitable for people working in the construction and engineering sector. The patented visco-elastic protective sleeve from JCB is there to protect the device from drops, spills, and other accidents that might occur in extreme environments. What further complements the experience is the list of software that comes pre-installed on the device: a spirit level, theodolite, decibel meter and recorder, torch, unit converter, calculator, and DIY store locator. Last but not least, a car charger with an extra long cable comes bundled too.
Other than that, however, the handset is practically identical to the standard
Motorola DEFY+
. It comes with the same 1GHz processor and 3.7-inch display with 480 by 854 pixels of resolution. A 5-megapixel camera is located on its back, and a 7.2Mbps 3G radio gets you hooked up to the internet while on the go. In terms of software, you get Android 2.3 Gingerbread out of the box.
The Motorola DEFY+ JCB limited edition is now available for purchase in the U.K. for a price of £259.99 ($400).