Moto X+1 benchmark pass reveals 5.2'' display, Snapdragon 800 processor
40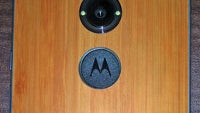 Rumors and leaks related to the Motorola Moto X have been fairly abundant, but it's been hard so far to piece together a more thorough expectation of the type of hardware that will be packed into the next Motorola flagship.
A device with model number XT1097, believed to be the Moto X+1, made an appearance on Geekbench
recently, and put the doubts that the Moto X+1 will stick to an older, Snapdragon 800 processor to bed. As it turns out, however, there's still some mystery left over.
According to GFXBench's database of devices that have passed its tests, the XT1097 will indeed come with a Snapdragon 800 chip. That said, the cores' clock speed of 2.5GHz indicates that this is actually the Snapdragon 801 (MSM8974-AC) -- the same chip packed into the Galaxy S5. Perhaps this is an unresolved issue on GFXBench's side, and their system doesn't yet understand the subtle differences between the two.
Model
Max Krait 400 CPU clock
Max Adreno 330 GPU clock
ISP
eMMC
Dual SIM, Dual Active
Memory interface
MSM8974-AA
(Z1, Note 3, G2, G Pro 2)

Snapdragon 800

2.26 GHz

450MHz

320MHz

v. 4.5

NO

800MHz

MSM8974-AB
(Z2, Z2 Tablet, Find 7)

Snapdragon 801

2.36 GHz

578MHz

465MHz

v. 5.0

YES

933MHz

MSM8974-AC
(Galaxy S5)

Snapdragon 801

2.45 GHz

578MHz

465MHz

v. 5.0

YES

933MHz


Anyways, moving on, the benchmark pass indicates a 5.2-inch, 1080 x 1920 pixel resolution screen, which would constitute a significant increase from the Moto X's 4.7-inch glass. Interestingly enough, the device currently known as
the Motorola Shamu, believed to be the Nexus 6
, will also come with a 5.2-inch screen, but a higher, Quad HD (1440 x 2560) resolution. Perhaps Motorola really has been tasked with producing the next Nexus phone? Time will tell.
The rest of the scoop includes a 12-megapixel rear camera (could be 13MP, as GFXBench has been known to mistake these) with support for 4K UHD video capture. At the front, there appears to be a 2-megapixel selfie snapper. Lastly, the device comes loaded with 2 gigs of RAM, and runs on the very latest Android 4.4.4 KitKat update.