Motorola holding event on September 4th: Moto G 2, X+1, and 360 on the way
49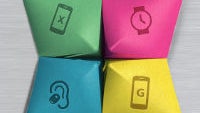 We know that there are at least three new Motorola devices in the pipeline, and now we have a date for when we're going to hear about some , if not all of those devices. Motorola has begun sending out media invitations for an event to be held on September 4th in Chicago. The question is: what will be announced at this event?
The most recent rumors have said that the Moto G2 has a release date of
September 10th
; and, assuming that is true, it is basically a given that the G2 will be seen at this upcoming event. But, if the teaser image for the event has anything to say about it, that won't be all that's on the docket. The teaser image (seen above) has four devices shown - the next Moto X, the Moto 360, the Moto G2, and what appears to be a Bluetooth earpiece. So, it seems reasonable to assume we'll be seeing the announcements for all of those devices.
Announcements are one thing, and release dates are another. The only rumor we have for the X+1 puts the release date around
September 25th
, but manufacturers rarely will announce something a full three weeks before releasing it. So, that makes us think that either the Verizon Moto X+1 rumor was wrong, or Verizon might be getting the device later than other carriers.
Motorola is also jumping in head first to a very busy announcement time. Samsung has an event planned for
September 3rd
, where we expect to see the Galaxy Note 4 and maybe also the
Gear Solo
. Then, September 4th is the start of IFA in Berlin, where
Asus
is expected to announce its first Android Wear device, and Microsoft is expected to announce a new Lumia devices, including the so-called "
selfie phone
". Then, on
September 9th
, Apple is expected to announce the iPhone 6. That's a packed stretch, let's see if Motorola can make an impact.