Motorola Shamu aka Nexus 6 full specs leak: 5.2" QHD screen, Snapdragon 805 and Android L
99+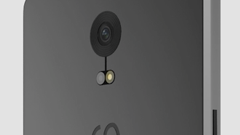 After reviewing the onscreen test rankings, however, it was discovered that the Motorola Shamu is listed as having a 2392x1440 pixels display, which, if we discount the eventual soft keys strip space, works out to a display with the
LG G3
's QHD resolution. Still, the phone, named after a killer whale, keeps graphics scores close to those of handsets with 1080p displays, while the G3 with Snapdragon 801 and Quad HD panel scores much lower. Furthermore, the Korea-exclusive
LG G3 Cat. 6
that sports a Snapdragon 805 processor,
also scored lower than the Shamu
, despite that it matches the high-res panel with an Adreno 420 GPU. Still, these are just preliminary test results, and both the onscreen and offscreen scores of the Shamu seem to match, so the test obviously isn't accounting for the display resolution here yet. In fact, we don't even need to guess what kind of a more potent processor will land in the Motorola Shamu, as in the meantime the specs info entries got fully populated in the GFXBench database, and you can see them in the slideshow below.
They show that a quad-core
Snapdragon 805
will be running the show, clocked at the hearty 2.6 GHz. The Quad HD 1440p resolution got confirmed in the table, and we even get to know the screen size now - a 5.2" diagonal, which is, thankfully, a far cry from the 5.9" size bandied about before. We also get 3 GB of RAM, 32 GB of internal storage, and a 12 MP camera on the back, capable of 4K UHD video recording, plus a 2 MP front shooter. Needless to say, Android L is the operating system of choice out of the box.
Breathtaking specs indeed, so we keep our hopes high that the Motorola Shamu will indeed transform into a Nexus 6, and will be announced together with an
HTC-made Nexus 8
tablet on a separate Google event some time in September, as rumored. With these specs, both are shaping up to be worthy poster kids of the new Android L that will be hard to beat for the holiday season, so we can't wait for more info to trickle down the pipe.