Microsoft's Steve Ballmer sells 49.3 million shares
1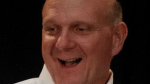 While Microsoft CEO
Steve Ballmer
is saying otherwise, it sure looks like Ballmer is losing faith in Microsoft. After selling 49.3 million shares of company stock, he has announced that he plans to sell a total of 75 million shares. The initial sale equates to a 12% reduction of his stake in Microsoft.
A fear-monger would tell you that this looks like he's dumping stock in order to make a swift exit from a sinking ship. Fortunately, that's probably not the case. Ballmer assures investors that his sale is "a personal matter," and in no way an indication of his impending exit. It's likely that his stock sale was motivated by capital gains tax, which will likely increase in the coming year. So perhaps he's just making a judicious move, planning ahead for his 2011 tax return.
Ballmer went on record on the company website: "
I am excited about our new products and the potential for our technology to change people's lives, and I remain fully committed to Microsoft and its success." After his 30 years of employment with Microsoft, it would be a big surprise to see him leave so suddenly.
Ballmer joined Microsoft as their first business manager in 1980. He has served the company faithfully, and become one of the largest Microsoft shareholders (4.2%), second only to Bill Gates himself. While he received a
reduction in his recent bonus
, partially due to the failure of the KIN, early sales point to the success of the
Windows Phone 7
OS.
source:
Reuters
via
TechCrunch