Microsoft intros Bluetooth-enabled Wedge, Sculpt mobile keyboards and mice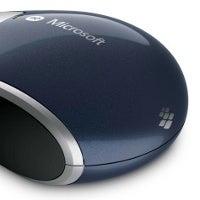 Microsoft's Windows 8/RT differs in one major way from the existing iOS and Android in the mobile space - it shifts the focus to content creation rather than consumption, and that's why it's utterly important that it has the best productivity tools available.
And when it comes to productivity hardly anything would match the speed of a keyboard and the precision of a mouse, and Microsoft brings not one, but two sets of Bluetooth-enabled keyboards and mice - the Wedge and Sculpt series.
We've already seen the Wedge keyboard and mouse leak out last week and all we saw turns out to be real. The two devices look very futuristic and luxurious in terms of design with aluminum siding.
The
Wedge keyboard
is very minimalist, with no numpad and comes with a case that doubles as a stand for your tablet. It's powered by two AAA batteries, that are placed underneath giving its top side a slight elevation. It costs
The
Wedge mouse
on the other hand is really a strange piece of Microsoft engineering and mostly design. It comes with the idea of ergonomy, but its weird triangular shape makes us wonder how it'd actually feel to use. Interestingly, its surface will allow you to scroll up and down through the user interface.
The
Sculpt keyboard and mouse
combo is also Bluetooth-enabled. The keyboard is curved and it might be easier on the hands, while the mouse is more traditionally designed than the Wedge series.
The Wedge keyboard and mouse
prices
are set at $80 and $70, respectively, while each of the Sculpt keyboard and mouse cost $50.
source:
Microsoft
The Wedge and Sculpt keyboards and mice