Microsoft continues iPad dissing campaign with latest Surface ads
17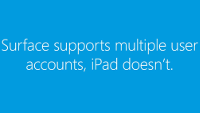 Microsoft is showing no signs of slowing down in its increasingly aggressive marketing onslaught, and the latest pair of Surface ads dissing the iPad is a testament to that.
The new duo of advertisements join the Surface versus the iPad club, and this time around targets areas such as the lack of support for multiple profiles on the Apple slate, along with the arguable advantages the Surface offers in the kitchen. These may sound like nit-picking, but Redmond has actually been on a mission to showcase the advanced productivity features of its wears, compared to the sometimes admittedly limited options that Apple hardware and software offers.
Another ad
, dissing the lack of USB port (and really, we're giving Microsoft this one), was released just yesterday.
In all honesty, Microsoft has been taking an increasingly belligerent approach with rivals – a quality that won the software giant its lead during the early PC era. That quality appears to have never truly gone away, and we actually prefer this self-confident Microsoft over the soft-spoken and quiet version of late (relatively speaking). Of course, the ball is actually in Microsoft court, seeing as Apple is making some serious dough out of the iPad and users simply love it.