Microsoft Surface 2 ad pounds on the Apple iPad's lack of a USB port
19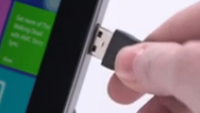 The latest ad from Microsoft to take on the Apple iPad goes right into Apple's face, as usual. This time, Microsoft shows off the advantages of having a full-sized USB port on the
Microsoft Surface 2
, unlike the Apple iPad which doesn't have one. And don't forget the HDMI Out port on the Surface 2 which lets you show on your wide-screen television, whatever you have on your Surface 2 screen.
The tag line? No USB, No Thanks. If Microsoft wanted to get a little more ambitious it could have gone a little further by copying those religious bumper stickers. No USB, No Thanks. Know USB, Know Thanks.
On Monday, we gave you a look at
Nokia's new ad for its Nokia Lumia 2520 tablet
. The spot points out how the Nokia slate has a longer battery life than the Apple iPad Air (the Power Keyboard adds 5 hours of battery life to the 8000mAh cell inside the Nokia slab) and the Power Keyboard also allows you to type on a physical QWERTY keyboard. "
Did I buy the wrong tablet?
," asks an
Apple iPad Air
sporting young man once he spots the
Nokia Lumia 2520
at work.
Want to see Microsoft go after the iPad again? Just click on the video below.
source:
MicrosoftSurface
via
WPCentral