MetroPCS announces the LG Spirit 4G, priced at only $199
0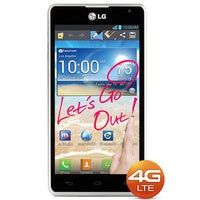 The LG Spirit 4G for MetroPCS has been officially announced and its a smartphone that deal hunters don't want to miss. We're looking at a mid-range device sporting a spacious screen, large battery, and 4G LTE connectivity, all the while costing only $200 without the need for one to sign a long-term contract. Well, you will be actually spending $270 at the time of purchase, but the difference will be given back in the form of a mail-in rebate.
So, what do $200 get you? A 4.5-inch display protected by a layer of Gorilla Glass, to start, which is more than acceptable for a handset of this class. Its resolution has not been mentioned in the official press release, however, so it is probably nothing to brag with. The LG Spirit 4G also packs a dual-core processor clocked at 1.2GHz. Again, its make and model aren't being specified, so we aren't expecting anything high-end, although the silicon should meet the needs of the average customer. There's also a 1.3MP front-facing camera for video chats and a 5MP main camera that is capable of capturing 1080p video.
Another outstanding feature of the LG Spirit 4G is that it is equipped with a beefy, 2,150mAh battery, which is about as much charge as some high-end Android devices offer. There are only 4 gigabytes of on-board storage, but additional space can be added with the use of a microSD card. Android 4.0 Ice Cream Sandwich comes running on the device.
The LG Spirit 4G is now available at MetroPCS stores and on the carrier's online store. It can be paired with its
new, simple 4G plans
, which start at $40 per month and also offer good value for what they cost.
MetroPCS Goes Big Display, Big Value with New LG Spirit 4G Smartphone
Consumers can pair 4.5-inch touchscreen LG smartphone at $199 with 4G LTE plans starting at $40
DALLAS, Jan. 31, 2013 /PRNewswire/
-- MetroPCS Communications, Inc. (NYSE: PCS) is going big in 2013 with the launch of the Spirit™ 4G, a 4.5-inch touchscreen Android™ smartphone from LG Electronics. The Spirit 4G packs top-of-the-line features in its sleek and stylish frame with a crystal-clear screen and 4G LTE connectivity for $199 plus tax after mail-in rebate – all with no annual contract.
The LG Spirit 4G builds on MetroPCS' success with other LG 4G LTE models – the Esteem, Connect 4G and Motion 4G – by taking features and ease of use to the next level:
Android 4.0 (Ice Cream Sandwich)
4.5-inch touchscreen with Corning Gorilla Glass® beautifully displays pictures, video and other content
1.2GHz dual-core processor and powerful 2150mAh battery provides easy multitasking throughout the day
5MP rear camera with helpful features like LED flash, Cheese Shutter, & Time Catch Shot to capture the right pictures at the right moments
1080p True-to-Life HD video recording for life's moving moments
1.3MP front camera for video chat
QuickMemo™ for convenient on-screen notation to express and share ideas
joyn™ by MetroPCS capability delivers a unified and intuitive way to share content with enriched services like integrated instant messaging or chat, WiFi and video calling. The official joyn app can be downloaded via Google Play and the @metro App Store™.
MetroPCS' 4G LTE Mobile Hotspot service support (for an additional monthly charge)
The value doesn't stop with all the features found in the Spirit 4G thanks to MetroPCS' recently simplified 4G LTE rate plans, which begin at $40 and offer unlimited 4G LTE talk, text and data for only $60 – taxes and regulatory fees included. The company also unveiled the best deal in town for unlimited on-demand mobile music service with access to Rhapsody for only $5 per month, available on all current Android and 4G LTE rate plans.

MetroPCS and LG are also kicking off the All-Star Spirit campaign, which benefits After-School All-Stars (ASAS), a non-profit organization dedicated to providing academic support, enrichment opportunities and health & fitness activities that equip participants with skills, experiences and relationships needed to succeed in middle school, high school, college and the 21st century workforce. MetroPCS and LG are supporting ASAS' efforts to provide high-school readiness and after-school programming to middle schoolers to put them on the path toward graduation. Every LG Spirit 4G purchased online and in ASAS markets* will contribute to the donation that will have a direct impact on children involved in ASAS programming. More information about the campaign, which begins next week, can be found at www.metropcs.com/ASAS.

The LG Spirit 4G is available starting today in stores and online at www.metropcs.com for $199 plus tax after $70 mail-in rebate for a limited time.