Meizu Blue Charm brand set to take on Xiaomi, two phones to be revealed December 23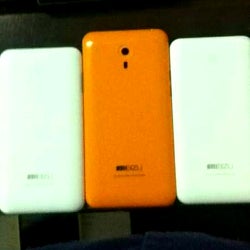 We were intrigued by a spy shot of two previously unheard of devices coming from Meizu the other day, one of which was dubbed
K52
, and the other carried the enigmatic name Blue Charm Note. It turns out that, after a year or two of hiatus, and flying on the success of the excellent
MX4
/
MX4 Pro
phones, Meizu is planning to launch an attack on none other but the mighty Xiaomi.
The Blue Charm moniker is shaping up to be a separate brand that Meizu will use to launch a rich variety of devices, sources claim - from phones and wearables through TVs, and even Blue Charm routers, similar to
what Xiaomi is doing now
. First in line, however, will be the dual SIM Meizu Blue Charm - a phone with a 4.6" 1080p display, MT6752 octa-core chipset, 2 GB RAM, and 16 GB of storage, while the Blue Charm Note is expected to sport a much larger, 5.5" display.
Don't get your hopes high that
Meizu will release the compact Blue Charm for $130
, as rumored before, since the company already debunked those rumors, saying that there is no way they will reach that price slot without compromising big on quality. Still, it should be one of the best value-for-money offerings considering the specs, if Meizu's traditions are any indication, so we can't wait for December 23rd, when the Blue Charm brand would be officially announced to the world.