Martian Pink Samsung GALAXY Note II is out of this world, lands in Korea
6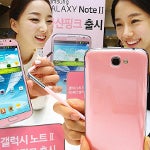 Samsung released a "Martian Pink" version of the Samsung Galaxy S III in Korea
. The reception for the color must have been (wait for it...) out of this world because once again Samsung is turning to the color to try to revitalize sales of the
Samsung GALAXY Note II
. All three major carriers in South Korea have the phablet in the new shade.
And in case you were wondering what the heck Martian Pink is, Samsung took the name from a
rare diamond
which itself was named from a U.S.satellite that landed on Mars in 1976. The story of the Mars landing inspired Harry Winston so much that the jeweler found a way to cut a diamond so as to make the pink color stand out. That particular diamond was just sold at auction last May for £11.1 million ($17 million USD). You can buy quite a few Martian Pink Samsung GALAXY Note IIs for that price.
source: Samsung via
Pocketlint