MLB says players can use certain wearables during a game
2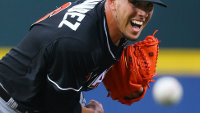 Major League Baseball announced today that certain wearable devices have been approved for in-game use. One device that is allowed is the Motus Baseball Sleeve, which keeps track of the amount of stress on the elbow. One other wearable, the Zephyr Bioharness heart and breathing monitor, is also allowed. MLB also is allowing the use of two bat sensors from Blast Motion and Diamond Kinetics. These are approved for on field use during workouts only.
With the increase in the number of hard throwing pitchers requiring elbow-related Tommy John surgery (named after the pitcher who first had the procedure done), it is hoped that keeping track of stress on the elbow will allow teams to rest pitchers who are in risk of damaging their elbow. Active pitchers who recently have had the procedure include Marlins' ace Jose Fernandez and Mets' Cy Young candidate Matt Harvey.
The Zephyr Bioharness heart and breathing monitor can help teams monitor stress among starting pitchers and catchers. It can also help them develop a post game recovery routine for these players, building up their stamina.
"Heart rate variability is an indicator of stress and can be used in developing post game recovery routines for high intensity players such as the starting pitcher rotations and catchers."-Steven Small, director, Zephyr performance systems
The data generated from the wearables will not be released to fans and media, and will be kept by the team and shared with the player. In fact, data generated by the devices cannot be downloaded until after the current game is over.
source:
AP