MIUI 7 vs MIUI 6: performance demo video
10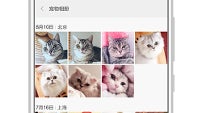 The new Xiaomi Redmi Note 2 is official and it offers a shockingly great value for its price, but it's not the only major new announcement by Chinese giant Xiaomi.
The other big new announcement is the new version of Xiaomi's Android skin: MIUI.
The new version is MIUI v7, and it adds some impressive new customization features, but what we're particularly happy to see is that the company has also refined the performance of the skin, bringing a 30% average improvements in response speeds.
30% average improvements in response speeds
This would be just words with no substance without an actual demonstration, and luckily, we have an official demo by Xiaomi. Check out how much speedier and more responsive MIUI has gotten with version 7, in comparison with the previous version 6.
*Since the video is hosted on Chinese YouTube equivalent YouKu, you might need to be patient with loading times.
source: Xiaomi