Lumia 830 is official - an affordable high-end Windows Phone with a 10MP OIS PureView camera
54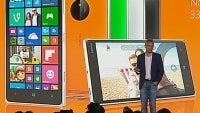 IFA 2014 witnessed the first Lumia device to be unveiled entirely under the Microsoft banner - meet the Lumia 830. The successor to the Lumia 820 is another colorful Windows Phone with signature characteristics like a Lumia 1020-like 10MP PureView rear camera with OIS, a removable back cover, and hardware capacitive buttons. Designed as an affordable high-end device, the Lumia 830 houses a 5-inch 720p panel, and it's powered by a quad-core Snapdragon 400 CPU. It runs on Windows Phone 8.1 with the Lumia Denim update. The phone will cost 330 EUR unlocked, with the equivalent US price probably being $330. It will be available in green, white, black, and orange.
The Lumia Denim update makes Cortana easier to use. It introduces a "Hey, Cortana" phrase that launches Cortana for filing reminders and other actions. Denim also brings geofencing powers to Cortana, too, which can recognize geographic areas for assisting in reminders and tasks. Denim also improves the camera application. The start-up process is faster, the camera is quicker to capture individual shots and adds a quick-capture mode that records 4K video and 8.7-megapixel images. The software can extract individual shots from the video to make for better images.
Lumia Denim will arrive first on the Lumia 930, 1520, and Icon, with others to follow in the fourth quarter. The separate camera app will also be made available during the fourth quarter, exclusive the 930, 1520, and Icon.