Nokia Lumia 830 Review
33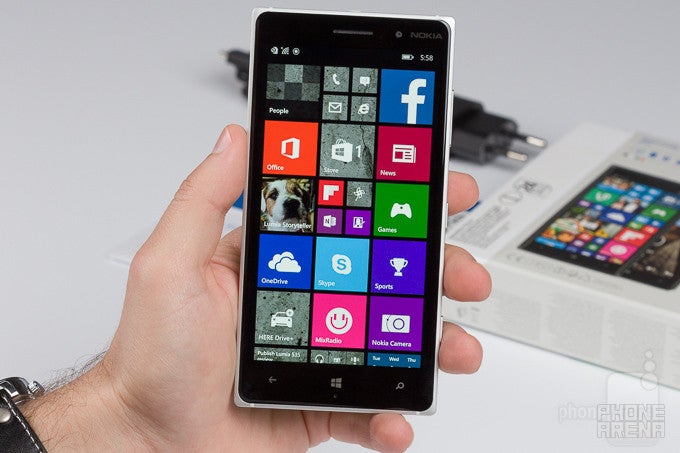 Introduction
The
Lumia 830
is Nokia's last midrange effort before its entire smartphone business was gobbled up, and rebranded as Microsoft Lumia. Nevertheless, the handset will be updated to the unifying Windows 10 when it lands later this year, so it is far from irrelevant still.
Lumia 830 is hardly a spec'd out device when it comes to the main mobile components, as it features a lowly Snapdragon 400 chipset, 1 GB of RAM, and a 720p display "only," but Nokia has thrown in a couple of perks that set it apart not only in the Windows Phone crowd, but also from mainstream Androids. Can a 10 MP optically-stabilized camera, and Nokia's Rich Recording with surround sound audio be enough to prevent the Lumia 830 from sinking into oblivion before Windows 10 hits? Let's see...
In the box
Nokia AC-60 1.5A wall charger
Nokia Charging and Data Cable
Warranty and information leaflets
Design
One of the thinnest Lumias available, the colorful polycarbonate 830 feels solid in the hand, eschewing the traditional unibody with a replaceable battery design this time.
At first brush, the Lumia 830 is the typical Lumia Nokia's been churning out since the brand's inception, with a polycarbonate chassis that is available in numerous flashy colors. Here, however, we don't have the traditional unibody design, but rather an easy to pry off rear cover that reveals a swappable battery pack, as well as the nano SIM and micro SD card slots. We have to take points off for the nano SIM, however, as it will force you to cut or replace your micro SIM card if you buy it unlocked, but this trend is inevitable, it seems. At 5.49 x 2.78 x 0.33 inches (139.4 x 70.7 x 8.5 mm), however, and weighing 5.29 oz (150 g), it is somewhat tall and heavy for a 5-incher, and yet it utilizes a nano SIM slot, which should be reserved for slim and light design efforts.
Moving on, the Lumia 830's chassis feels very solid in the hand, the matte polycarbonate on the back prevents it from slipping, and the keys concentrated on the right-hand side, are all big enough, with good tactile feedback, and easy to find and press without looking. We also liked how the tapered cover glass slopes towards the sides to merge with the side rim for one uninterrupted look and feel. Nokia bragged that it takes hundreds of robotic movements to achieve the curved glass edges, and we have to say that the results of all that scrubbing are very pleasant to hold or simply look at. Overall, the Lumia 830 feels like one very solid piece of hardware that should serve you well a long time.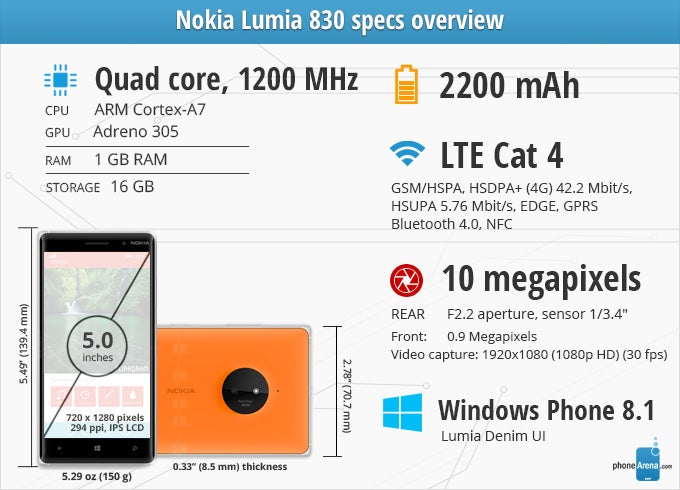 Display
While an HD resolution is nothing to write home about in this day and age, Nokia has put a good IPS LCD panel in the 830, with plenty of color modes and manual adjustments to choose from.
Lumia 830 sports a 5" 720x1080 pixels IPS LCD display with decent 294ppi pixel density. You have several display modes to choose from, like cool, vivid and advanced, with the latter letting you play around with color temperature, tint and saturation sliders, until you've reached the desired results. Color saturation can be adjusted from "natural", all the way to the gaudy "vivid" level. Color temperature goes from warm through neutral to cold, while the tint slider lets you emphasize individual colors – from green to purple.
The color accuracy of the screen in the default mode is excellent, too. Lumia 830 returned 6558 Kelvin white point in our display measurements, which means that the hues are neither too cold nor too warm, but rather cover almost perfectly the reference 6500K mark. Scoring another good point, the color distribution chart returns accurate representation, with no oversaturation or off-kilter tonalities.
Nokia cites "sunlight readability enhancements" for the Lumia 830, which consist of boosting the display brightness significantly when outdoors under direct sunlight, but doesn't list it as having the Clear Black filter on top that diminishes reflectivity. Thus, while the 830 fares well outdoors, it's contrast is not as good then as the one on the Lumia 930, for instance, so you'd have slightly subpar experience reading the screen under the bright sunlight, compared with the flagship. Still, at 478 nits, the phone's display is bright enough to be used comfortably outdoors.
Covered by sculpted Gorilla Glass 3, the Nokia Lumia 830 screen should withstand more than a few bumps and scratches, and, as usual, it also features a supersensitive touch layer, meaning that you can operate it with your gloves on.
Display measurements and quality
Recommended Stories