Lumia 830 and 735 pre-orders up in the UK. Will ship on the 2nd of October
3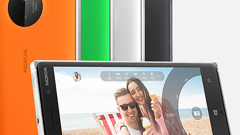 Microsoft's new "affordable flagship"
Lumia 830
and selfie-centered
Lumia 735
will be available for purchase in the UK on the 2nd of October. The two handsets can currently be pre-ordered from Clove and Unlocked Mobiles. With a minor difference in prices listed on both sites, the 735 goes for around $300 (£183) and the 830 – around $410 (£250), before VAT.
The Lumia 830 is aimed at the upper mid-range market, touted as an "affordable flagship" by Microsoft; though, it's powered by a 1.2 GHz Snapdragon 400 and 1 GB of RAM, which many found to be disappointing. It sports a 5-inch display with a 720p resolution, which brings its PPI to 294 – a good density for a device from the cream of mid-rangers, but still shy from flagship-land. Still, it's Microsoft's cheapest handset to offer a PureView camera with OIS and a more-than-adequate 10 megapixel resolution. It is also the
thinnest Lumia to date
.
The Lumia 735 is aimed at the selfie aficionados out there, with a hefty 5 MP front-facing camera. This handset is also powered by a 1.2 GHz Snapdragon 400, coupled with 1 GB of RAM. Its display is slightly smaller – 4.7" – but its resolution remains at 720p, which gives it a slightly better pixel density at 312 PPI. Its backside camera is nerfed down to 6.7 MP.
There is still no official date for when the phones would be arriving to the US. It is
rumored
that they will be available through AT&T, Verizon, and Sprint; though, the 735 may only be available through the former two. There is also no concrete pricing for the US market as of yet.
Pre-order links:
Clove Lumia 735
(£220 inc. VAT)
Clove Lumia 830
(£300 inc. VAT)
Unlocked Mobiles Lumia 735
(£225 inc. VAT)
Unlocked Mobiles Lumia 830
(£305 inc. VAT)
source:
WPCentral