Liveblog: Google I/O 2016 Keynote Address
6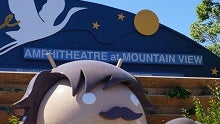 Few industry events foment excitement the way Google I/O does. Yes, events like CES and the Mobile World Congress bring forth a lot of news, a lot of gadgets, and showcase a lot of neat ideas, but developer conferences are interesting because it gives us a look at what is coming, sometimes years in the future.
Google, now a subsidiary of the newly formed holding company, Alphabet, has always been visionary in how it seeks to mesh its services into everyday lives of consumers, developers, and merchants. To that end, the company has taken on a wide variety of projects, making it an ultra-tech conglomerate, from fiber in the ground,
Project Loon
in the sky,
Nest in the home
, Android in the pocket (and wrist), to self-driving cars and a near-ubiquitous search engine that pretty much catalogs everything in the internet.
What makes this year's Google I/O exciting is the change of venue. Years past, San Francisco's Moscone Center was the hive of activity for the company's developer conference (and it still is, for many events like Build, and Intel, others). For 2016, Google is bringing I/O back home to where it started a decade ago. The Shoreline Amphitheatre in beautiful Mountain View, California, about 40 miles south of San Francisco, and literally across the street from the Googleplex that is Google's world headquarters is where it is all happening this year.
So, what is on deck? We already have a really good view about what is happening with Android, thanks to its highly visible, and available,
developer preview of Android N
. Hopefully we will see advances with
Project Ara
, and updates about smart fashion with
Project Jacquard
, and proximity gestures with
Project Soli
. There have been rumors about virtual reality beyond
Google Cardboard
, and we may see something big with ChromeOS and Android. We are definitely going to learn more about the self-driving cars, and
Xiaomi is going to be making an appearance
as well.
Either way, Google has its fingers in enough pies that news is sure to be big all-around. We are bringing the updates to you through our liveblog, stay up-to-date right here.
The Google I/O 2016 Keynote Address is scheduled to begin at 10:00am PT | 12:00noon CT | 1:00pm ET | 5:00pm GMT!