Google's Project Jacquard hands on: Wearables will be garments and developers will become fashion designers
17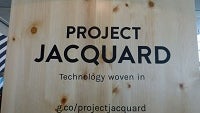 While Google did not technically have a Keynote address slated for the second day of Google I/O, the presentation from the Advanced Technology and Projects group (ATAP) may as well have been such an occasion.
ATAP announced a number of neat initiatives during its presentation, and one of the projects that was rumored and discussed around various online social venues, was introduced as Project Jacquard.
Project Jacquard is all about bringing interactive functionality to everyday items, like our clothes. In 2012, the mobile industry had a great year selling over 120 million mobile devise in the United States. The garment industry sold over 19 billion pieces the same year. With a canvas that large, the possibilities are endless about how discrete, yet uniformly functional features make our wearables more than just a wearable.
We have seen clothing ideas before that offered some measure of connectivity, but Google wanted to go beyond the boutique-ish, crowdfunded single purpose ideas and build something that could scale to an industry that makes billions of pieces each year. Thus Project Jacquard was born.
The idea for this "textile computing" is not to replace any particular component (smartphone, smartwatch), but to enable some functionality that is just passive enough that we do not need to look at our watch or smartphone all the time.
The technology behind Project Jacquard is a system that literally weaves conductive fibers in the fabric, and is then connected with a small, sealed circuit interface somewhere in the garment. After inventing a type of conductive yarn that is not only functional, colorful, and tough enough to be meshed into clothing, Google sought out a partner in another Bay Area icon, Levi Strauss, known around the world for its famous Levi's jeans.
Levi's has been a part of the Bay Area since the gold rush era over 140 years ago. In fact, just one week before today's announcement, Levi's celebrated its 142 year anniversary, and it had also "found" a 130 year pair of jeans.