Project Ara caught in the Alphabet soup?
13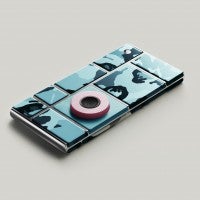 The Project Ara modular phone is
the most well-known legacy remaining of Motorola's time spent as a Google subsidiary
. Google ended up with Motorola's massive patent portfolio as well. We don't know if the pressure of the Google restructuring is getting to the Project Ara crew, but the unit's Twitter account was in use on Thursday with a few tweets apparently designed to reassure fans worried that the restructuring would mean the end of the Project.
The Project Ara Twitter account had gone quiet from the end of May through Wednesday when a pair of tweets went out, first to see if any Project Ara fans were still around, and the second to explain that the crew has been busy "
making stuff
." The tweets that went out on Thursday hinted that some changes are coming in the form of a "
market pilot re-route
." That sounds suspiciously like there will be a change in plans that will soon be announced
Project Ara was supposed to
sell its first modular phone, the Spiral 2, in Puerto Rico
later this year. One tweet sent out yesterday says, "
And this is not goodbye Puerto Rico!
" Adding talk about a market pilot re-route to that tweet sure sounds like the modular phone will end up making its debut elsewhere.
Project Ara did hint at further updates to come next week. As soon as we hear what is happening with the modular phone project, we will pass the news on to you.
source:
@ProjectAra
via
Engadget