Nest introduces new generation of products and all new mobile app to control everything
3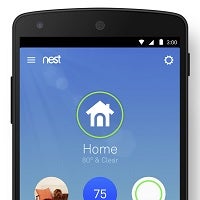 Google's home automation unit, Nest, did not play a role at Google I/O last month, but that could be due to the company had its own plans, like introducing an all-new line-up of products, and a new single app to run them all.
Nest's cornerstone products, the Nest Learning Thermostat, and Nest Protect smoke detectors, are the same form factor (the new Protect is a little smaller now), but the software has been updated to provide safety temperature alerts if your house gets too hot or cold. That will help you keep your pipes from freezing, or prevent a pet from overheating while you are away. The new software will also allow the Nest Thermostat to support a multi-zoned home. Up to 20 thermostats can be connected, and they will share data to conserve energy costs around the house.
The thermostat will also connect to Nest Protect smoke detectors so you can see notifications on the dial. With that connectivity comes the emergency shutoff feature. Some CO leaks can originate from heating systems, and if there is smoke, the central air conditioning can spread smoke throughout the house. If Nest detects these emergencies, it will turn your HVAC system off.
Nest Protect, is 11% smaller than before, and includes new features like a split spectrum sensor to identify slow or fast moving fires. The app can turn off alerts, and Protect has a 10-year life-cycle. Nest Protect is easier to install thank to a redesigned back plate. The sensor will also glow green or yellow after you turn the lights out to let you know if everything is okay or if a unit needs attention. That feature is called the "Whole Home Nightly Promise."
Last year, Nest acquired Dropcam, a home camera system that could easily let you monitor activities with your smartphone or tablet. Now rebranded as
Nest Cam
, the camera has been completely redesigned with a new magnetic base, and to allow more versatile mounting options. Captured video is 1080p over Wi-Fi, and secured with a unique 2048-bit RSA key, and will transmit using 128-bit SSL. Night vision has been improved, and you can store video history with a Nest Aware subscription (starts at $10 per-month).
Nest is also piloting the ability for people to stream directly to YouTube with their Nest Cam. Plus, popular feeds are streamed to Nest's own YouTube channel so people to look at live video of scenic views or cute animals.
With some of these home automation features, there is a potential benefit to homeowner's insurance. Nest has started to partner with insurers on a program called
Safety Rewards
. Customers that opt-in will have their Nest Protect automatically send basic telemetry of the device. In some cases, the insurer will pay for the Nest Protect. The data is gathered simply measures battery level, sensor status, and Wi-Fi connection status. Depending on how expensive your homeowner's policy is, it might be a nice feature.
Finally, the Nest app, version 5.0, is available for iOS and Android. Now, all Nest products can be controlled from a single app, including existing Dropcams. For those outside the United States, Nest Protect, Nest Cam, and the Nest Aware service are arriving in Canada and Europe this summer, including UK, Ireland, France, Belgium, and the Netherlands.
source:
Nest