Live photos of Google Nexus Sailfish leak out
40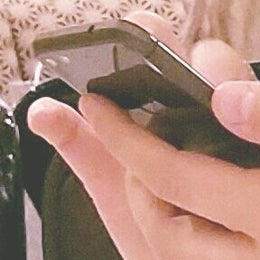 It may still be a month or two before Google officially announces this year's
new Nexus smartphones
, but the devices are not exactly mysteries to us. Codenamed
Sailfish
and
Marlin
, the two next-gen handsets are reportedly made by HTC, and should have many common features. Moreover, it's said that they also have one and the same design (though in different sizes).
Android Police today revealed live photos of what seemingly is the Nexus Sailfish - the smaller of the two upcoming phones, which should sport a 5-inch 1080p screen. The photos - included below - show a device that certainly resembles the alleged Nexus Sailfish spotted in previously leaked renders. Admittedly, these are not the best leaked images we've seen, but they're enough to prove that the Sailfish doesn't really look like any of the older Nexus handsets (and neither should Marlin). This particular Sailfish model that we can see today has a two-tone, black and grey appearance, obviously featuring a fingerprint scanner on the back, below the rear camera.
A recent rumor had it that the Nexus Sailfish would be a plastic-made device. However, Android Police notes that both Sailfish and Marlin should be made out of metal (with glass possibly covering the top half of the rear shell).
The Google Nexus Sailfish and Marlin will run Android 7.0 Nougat out of the box, reportedly featuring Snapdragon 820 processors, 4 GB of RAM, and 32 GB of internal memory. Unlike the 5-inch, 1080p Sailfish, the Nexus Marlin will probably offer a 5.5-inch Quad HD (1440 x 2560 pixels) screen, in addition to a larger battery.
Besides the Nexus Sailfish live photos uncovered by Android Police, we also want to show you another image of the unannounced phone, one that appears to be snapped from a promo video. Check out the slideshow below, and let us know if you like what you're seeing!