Lenovo's Mirage Solo standalone Daydream VR headset up for pre-order in the US for $400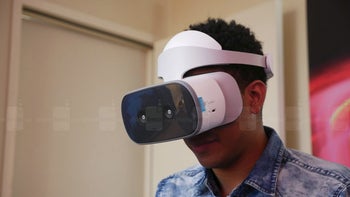 Lenovo and Google introduced the Mirage Solo VR headset
back in January
at Consumer Electronics Show (CES) 2018, but they did not say when exactly it will be available for purchase.
It looks like US retailer B&H Photo has just listed the standalone
Daydream VR headset
, so anyone can pre-order one for $400. Unfortunately, you'll have to wait quite a long time until Lenovo's Mirage Solo VR headset will hit the shelves.
According to B&H, the device won't ship until May 11, one day after
Google I/O conference
that's been confirmed to take place between May 8-10.
The Mirage Solo doesn't require you to use a smartphone or a computer. Moreover, it fits comfy over the head and won't require any additional components for it to work or cables to connect to it.
It sports a 5.5-inch 2560 x 1440 LCD display, a
Qualcomm Snapdragon 835
processor, 4GB RAM, 64GB expandable storage, as well as a massive 4,000 mAh battery. Also, it comes with a wireless
motion
controller, just like Google's Daydream VR headset.
Before complaining about the high price in comparison with other mobile VR headsets, let's not forget that this is complete wireless VR solution that doesn't require a smartphone or any additional purchases.