Lenovo unveils the Vibe K5 and K5 Plus - budget-friendly mid-rangers
3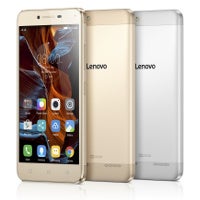 We were almost sure that Lenovo will launch at least one smartphone at this year's MWC, and guess what, we were not wrong! One of the grander China-based phone makers today announces two new devices, the Vibe K5 and K5 Plus, which aim to go easy on your wallet. Indeed, the affordable price tags are the bigger highlights of the two devices, as they will set you $129 and $149, respectively. Unfortunately, you won't be able to get these in the US.
Regardless, let's check them out just for curiosity's sake! Design-wise, we are dealing with two 5" identical devices, which only differ in terms of hardware and display resolution. They seem to be audio-centric devices with Dolby Atmos support and two speakers on board, though it's not clear if they are stereo ones. Here are the specs of the Vibe K5 and K5 Plus at a quick glance:
Snapdragon 415 (Vibe K5) | Snapdragon 616 (Vibe K5 Plus)
5" 720p display (Vibe K5) | 5" 1080p display (Vibe K5 Plus)
2GB of LPDDR3 RAM
16GB native storage, microSD card slot
13MP rear camera
5MP fixed-focus front camera
Dual SIM slots, LTE connectivity
2,750mAh user-replaceable battery
Android 5.1 Lollipop
Once again, we want to stress upon the price of these two phones - $129 for the Vibe K5 and $149 for the K5 Plus. Now, as far as the availability of he duo is concerned, we will have to wait for Lenovo to spill the beans, though one thing is for sure - these won't be hitting the US. Disappointed?
source: Lenovo