Lenovo planning to flood the market with more than 40 phones in 2012
7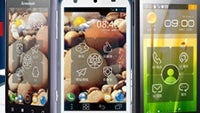 Lenovo, the Chinese notebook maker that has climbed to become the world's second best laptop seller, already has some presence in the smartphone market, but it really plans to elevate this in 2012 and come up with
more than 40 phones this year
.
Lenovo's grandiose plans include not only the launch of 40 new smartphones in 2012, but also an increase in smartphone shipments to 18 million, up from a six million units shipped in 2011.
Lenovo is doing particularly well in China, where it grabbed a 10% market share in the first three months of the year, with sales growing nearly 21-fold. The company plans to bring phones in all segments - from cheap to premium.
The company is doing good in tablet sales in China as well and now has a 17.2% market share. This makes it the second-largest in the Asian country, and the fourth biggest globally.
The Lenovo phones that should be of some interest are models featuring MediaTek MT6577 and Qualcomm QRD 8x25 and 8x26 chips.