Lenovo confirms working on IdeaPad A10, a 10" Android laptop
2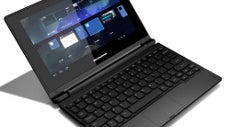 After a user manual for its mysterious new Android laptop leaked online, Lenovo has now confirmed it is indeed working on a 10" Android notebook, the Lenovo IdeaPad A10.
Now, you might think we've already seen this in Android convertibles like the Asus Transformer series, but this time it seems we're really talking about a laptop device, and not just a tablet with a keyboard attachment. The border is loose, but the IdeaPad A10 tends to lean towards the notebook form factor.
From what's leaked, it looks like this will be a 10.1-inch laptop with an HD screen and you can flip it around into stand mode (or theater mode). Most interestingly, the laptop features a keyboard taylor-made for Android. There is a separate home, back and apps screen keys, the same you'd find on Android tablets and phones.
Now, Lenovo had obviously planned an official unveiling, but now that the cat's out of the box, it could only confirm:
"The product has not been canceled. It will be going out to the market,"
Chris Millward, a Lenovo spokesman said. We are still looking forward to hearing about a price and the Lenovo IdeaPad A10 release date. We'll update you on them when we know them.
source:
Lenovo
(PDF)