Leak shows that the Bold 9930 will be available from Verizon via direct fulfillment on 8/15
12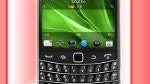 At this point, there is still very little we know about Verizon and their plans about
bringing aboard the BlackBerry Bold 9930
. There's no question about it, but customers are probably most curious on when Big Red will actually start selling the handset.
Well folks, we're presented with yet another
leak
that pinpoints the date of
August 15th and 25th
. With the first date, the leak mentions that the Bold 9930 will be available to customers in all areas via their
direct fulfillment
process. However, if you're expecting to stroll into a local store in the hopes of finding and buying the handset, you'll need to wait until later in the month on August 25th before that becomes a reality.
Still, if you can't wait that long, then you'd better go ahead and go with option number one to grab yourself a unit as soon as possible. Naturally, the only thing left to complete the puzzle is pricing, which we hope that Verizon will follow suit to what
Rogers is doing
.
source:
CrackBerry