RIM BlackBerry Bold 9930 Review
29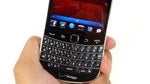 This version of the phone is intended for Verizon, there is also one for Sprint. An identical one, called Bold 9900, is for T-Mobile.

Introduction:
When you hear the word bold attached to a smartphone, one would easily surmise something that's daring, adventurous, and openly intrepid. Looking back at the original
BlackBerry Bold 9000
from a few years back, there's no kidding that RIM wanted to bring something remarkably tantalizing to the table – and since then, we've seen the Bold family expanding with many elegant devices under its belt. Still, one has to ask how RIM is going to get back into relevancy when the original
Torch
fizzled to accomplish that perennial feat last year.
This time around, rather than concocting a totally new smartphone from the ground up, RIM is summoning up some inspiration from past memorable devices. Ladies and gentlemen, without further ado, they bring to us the iconic looking
BlackBerry Bold 9900/9930
– the next evolutionary BlackBerry that actually intends on showcasing RIM's strengths. Indeed, this is going to be their primary workhorse in the foreseeable future seeing that it packs some impressive specs for a BlackBerry device, while retaining that acclaimed design that we all know and love. Not surprisingly, it should spark the interest of loyal BlackBerry users, but will it also entrance new users?
The package contains:
RIM BlackBerry Bold 9930
microUSB cable
Wall Charger
Polishing Cloth
Swivel Holster
Quick Reference Guide
Safe & Product Information Kit
Design:
Gorgeous! That's basically what best sums up the design of the BlackBerry Bold 9930. On the surface, it does bear a lot of resemblance to previous Bold handsets, but RIM is able to improve it just enough to warrant a resounding amount of adulation. Premium is yet another thing that it embodies seeing that they didn't skimp out on high quality materials. Combining its plastic casing, it's supplemented handsomely with its stainless steel band, soft touch accents in the rear, and solid glass like back cover. Not surprisingly, RIM delivers a handset that is solidly built to grab the attention of bystanders from afar. Moreover, we're mesmerized by its wickedly streamlined appearance (0.41" thick) and light weight (4.59 oz) feel in the hand. Some might lament over the classic looks, but in all honesty, this is exactly the direction that RIM needs to embark on more.

You can compare the with many other phones using our
Size Visualization Tool
.
Considering that we're now presented with a touchscreen, we find the move to a larger
2.8" VGA
(640 x 480)
display
to be fitting in allowing better ease with navigation – and it shows profoundly in its execution. Crunching down the numbers, it offers an impressive pixel density of 287 ppi, which is able to produce some stunning looking details and clarity that exceed our expectations. At the same time, colors are vivid and robust looking at almost every angle to ensure that nothing goes unnoticed. Initially, our natural inclination is to navigate with its optical trackpad, but it's not that long afterwards that we find ourselves relying on the touchscreen more for the sake of convenience. Without question, there's no arguing that the touchscreen is undoubtedly the piece de resistance that solidifies the handset's evolution.
Naturally, the handset employs all of the characteristics found with the Bold family, but there are distinctive changes that make it a refreshing device – such as the chrome trimmed
buttons
clinging to its stainless steel
bezel
. Besides that change, we see all the usual ports and buttons with the handset – like its optical trackpad, microUSB port, and 3.5 mm headset jack.
Hands down, the BlackBerry Bold 9930 has the best
keyboard
ever to grace any of RIM's products! Since the handset is longer and wider than other recent Bold smartphones, the keyboard is naturally expanded to offer plenty of room to comfortably type. In addition to the spacious layout, buttons have increased in size as well to offer better distinguishability. Actually, it didn't take us very long to adapt seeing that we were thrilled by the awesome clicky response that's accompanied with each button press. Not only are we able to accurately press the correct letters, but our rate is impressively consistent while typing out long passages of text. If we had to enter a texting contest of some sort, we'd totally prefer to use the Bold 9930 for it.
As much as we adore the larger 5-megapixel camera with LED flash in the
rear
, we're saddened to know that it's simply a fixed focused one – as opposed to the auto-focus found with the
Bold 9650
. Could it have been too much to ask for? Or maybe it could've conflicted in keeping it razor thin? Obviously, the glass-like back cover exudes yet another premium finish to the handset, but its bigger function is that it holds the handset's NFC chip. Considering that mobile payment is expected to explode in the coming year, it's nice to see the Bold 9930 offering it from the onset – despite not having much function in the near term. Removing the rear cover provides access to its 1,230 mAh battery, SIM card slot, and unoccupied microSD card slot.
RIM BlackBerry Bold 9930 360-degrees View: