Rogers lowers the Bold 9900 to a more suitable $199 pricing, but still requires a 3-year contract
8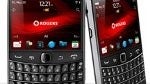 Whenever we see smartphones priced well above the $200 on-contract mark, there's obviously something that they need to pack on in order to be somewhat valued by consumers – like 4G LTE connectivity for example. However, there's no hiding the fact that some people out there irked by the fact that we're seeing $250 and up prices with the BlackBerry Bold 9900.
Previously, like many of the wireless operators around the globe selling the Bold 9900, Rogers initially priced their model at $249.99, but they've actually just reduced the price by $50. Now that it's flaunting a
$199.99
price point, it's undeniable that people are going to be attracted to it even more. However, it's worth noting that you'll be tied down to a
3-year contract
with Rogers – so that's where the pickle comes into play.

Seeing that they've begun to make the move first, we're curious to see whether other carriers will adopt the new pricing. At $200 on-contract, it's by far a better sell in the eyes of most consumers.
source:
Rogers
via
MobileSyrup