Lara Croft meets Hitman Go, result is a beautiful puzzle game
1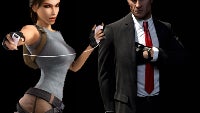 About a year ago, developer Square Enix released a turn-based tactical game based on the successful Hitman franchise, named
Hitman Go
. The title turned our beloved, bar-coded baldie into a pawn-like figurine and had us take him through a set of mazes, guarded by figurine guards. Some fans of the franchise were taken aback by the unusual approach to what is traditionally a 3rd person stealth game, though, in the long run, the title has received generally favorable reviews.
Now, Square Enix is preparing to launch another Go title – this time, it takes on the famous Lara Croft a.k.a. the Tomb Raider.
If you are concerned that the feminine Indiana Jones is about to be transformed into another plastic figurine, you'd be relieved to know that the developers have actually decided to go a different route this time around – one filled with smooth animations and lots of homage to the classic Lara.
Indeed, as seen in the videos below, the game is full with lots of colorful details and smooth, smooth movement. Additionally, the dev team has drawn a lot of inspiration from the old Tomb Raider titles from the '90s, which is apparent in the way that the levels develop, the enemies that Lara encounters, basic character animations and, of course, her attire.
Lara Croft Go will be out on August 27th for both Android and iOS. Seems like fans of Hitman Go will definitely have fun with this title, though, we'd say that fans of the old games should give it a go as well.