Landmark survival shooter Bioshock arrives for iPhone and iPad
13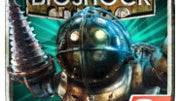 After months of development, Bioshock, the landmark shooter with a twisted horror story, has finally arrived for iPhone and iPad. The game, originally released on PC in 2007, comes in its nearly full glory: with only slightly toned down graphics, but otherwise same story, game physics, levels, and audio.
Developer 2K Games launches Bioshock for a hefty, $14.99 price, but in exchange offers a gameplay that won't be interrupted by annoying in-app purchases.
Bioshock revolves around the story of protagonist Jack, who arrives in Rapture, 'an underwater utopia', after survivina a plane crash that has left him in the middle of the Atlantic ocean. In the game you get to use all sorts of weapons and genetic mods to find Andrew Ryan, the madman who rules the mystical city.
Bioshock will run on the following devices: iPhone 5 and later, iPad 4 and later, as well as iPad mini 2. Note that the game simply won't run on earlier devices.
via
9to5Mac