LG to showcase the Tab-Book at MWC, a hybrid tablet/notebook device with Win 8 and LTE
8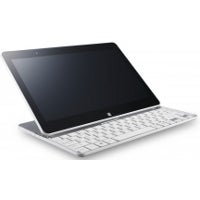 LG has crafted a pretty compelling tablet-notebook combo, fittingly called Tab-Book, with a
sliding keyboard mechanism
, which is aimed to bridge the gap between slates and laptops. Equipped with a touchscreen of undisclosed size, it is also powered by a respectable Core i5 processor to run that Windows 8 full speed.
The screen is of the IPS variety, which would ensure better contrast and superior viewing angles than what you usually get with notebooks, yet when you push the Auto-Sliding button, the keyboard will emerge underneath for the avid touch-typist in you. As per Il-geun Kwon, Senior Vice President and Head of the LG Home Entertainment Company's IT Business Unit:
The Tab-Book is going to appeal to consumers who want the convenience of a tablet but also the productivity of a notebook and don't want to carry two devices all the time. Many other products that claim to do both require making too many sacrifices in performance and weight. We think we've hit the perfect balance here and with super fast LTE connectivity, we're delivering true convergence of computing and mobile devices.
No other specs like battery life or price are disclosed in the press release, but LG says we will have a chance to peruse it at the MWC Expo in just a few days, and after the launch in Korea this week, it will later be rolled out in "additional markets".