LG to show off first Medfield-powered smartphone at CES, shipping by March?
14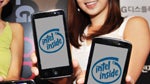 It's been a long, slow road for Intel as Chipzilla attempts to invade the mobile device market. Despite showing off pre-production prototypes at last year's CES, 2011 was yet another trip around the sun without Intel inside… anything in mobile.
That's about to change soon, according to an unnamed executive at LG. Speaking to the Korea Times, the "top-ranking executive" confirmed LG will introduce an Android smartphone at CES powered by Intel's
Medfield chipset
. The device may be on shelves as early as March.
Intel's Korean chief Lee Hee-sung confirmed the CES announcement, and further indicated that Intel CEO Paul Otellini would personally introduce the device. This sort of confirmation ahead of an event is rare for Intel, and neither LG nor Intel officials would follow up on the story.
It's not a surprise that someone as prominent as Otellini would make the announcement. Intel has invested heavily in making their chips efficient enough to compete in the mobile market, and early reports
sound promising
for the new Medfield-based devices. With mobile sales continuing to grow as the market for traditional computer contracts, Intel needs to make a move on mobile if it wants to stay atop the chip-making industry.
source:
Korea Times
via
9to5 Google