Intel Medfield chip gets benchmarked, beats the ARM competition
12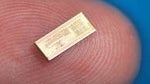 Not long ago, we showed you a picture of an
Android smartphone with an Intel processor
under its hood. In particular, the chip was a last-gen Atom model bearing the Medfield codename. The handset was said to be a reference device that manufacturers could use while building their own smartphones powered by Intel's chips. Sadly, the silicon's performance was something that we knew very little about.
However, it now becomes apparent that
the Medfield processor has already been benchmarked
, and the results look quite promising. The testing has been performed using Caffeinemark 3, which is an Android benchmarking app that measures Java performance. Clocked at 1.6GHz, Intel's processor scored nearly 10,500 points and surpassed Samsung's Exynos 4210, which is now second best with a result of about 8,500 points. For comparison, a Qualcomm Snapdragon MSM8260 scores about 8,000 points and a Tegra 2 by NVIDIA gets about 7,500. And by the way, the results from the quad-core Tegra 3 have yet to be made official, so it isn't sure how long the Medfield chip will hold the top spot for.
So, we know that the Intel Medfield chip is fast, but the area where the manufacturer needs to work on is power consumption. When installed inside of a prototype tablet device, the processor consumes 2.6 watts when idle, while Intel's target is 2 watts. At the same time, it sucks 3.6 watts under load, and that figure needs to be dropped below the 2.6 watts mark.
The first devices powered by the Medfield processor are expected to be announced during the second quarter of 2012. However, further information regarding the chip and the smartphones and tablets that it will be used in is likely to be unveiled at CES 2012 next month.