LG and Sprint co-hosting party at CES; new phone to pop out of cake?
5

Ok, so LG and Sprint are co-hosting a party at CES. It doesn't take Sherlock Holmes to realize that there probably will be a new phone announcement made at some point during the festivities. What phone could it be? Both firms are using the tag line "Celebrate Style" when it comes to the party. LG has nothing more stylish in its lineup than the Prada line, and during the summer, LG did say that a new Prada was in the works, but alas, not only has there not been a CDMA version of that model, it also has never appeared wearing the branding of a U.S. carrier. So Mobile Crunch did some checking and it could be (drum roll, please) the upcoming LG Lotus sequel. It is an LG phone heading to Sprint with an expected January launch date. Stylish? The first line of Sprint's press release for the original Lotus was all about the style: "Fans of the fashion runways will appreciate the couture
style
of LG Lotus, exclusive to Sprint." Maybe you don't consider the Lotus to be stylish, but hey, it says so right in the press release.
LG Lotus Specifications
source:
MobileCrunch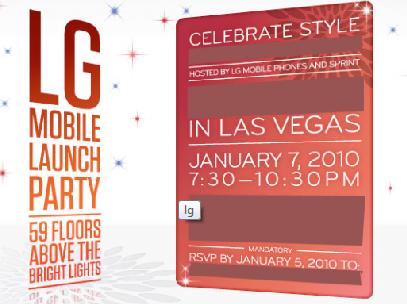 Image courtesy of Mobile Crunch