LG V40 ThinQ may feature notched POLED display, Google Assistant button
4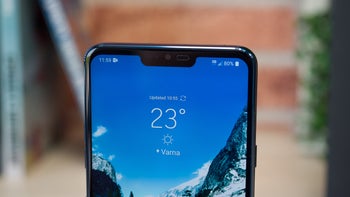 Despite already releasing three new flagships smartphones this year,
LG
is largely expected to unveil a fourth come this fall in the form of the LG V40 ThinQ. And, with its announcement expected to take place in September, new information found within firmware files reveal a number of details, although it does contradict one previous rumor.
Going by the codename "judypn" rather than the
expected "storm" name
, three different variants of LG's next flagship have been spotted using the model numbers LM-V400N, LM-V4005N, and LM-V409N – these fall in line with the number strategy used with previous flagships. In terms of what's on offer, the variants in question seemingly sport a POLED display just like the LG V30 series. However, unlike previous V-line devices, the V40 ThinQ looks set to include a small notch up top, much like the G7 ThinQ. This is determined by the 3120 x 1440p display resolution that is listed which results in a panel that is significantly taller than the 18:9 one included on V30 devices. Also, on one other design note, the flagship looks set to borrow the dedicated Google Assistant button that is included on the
G7 ThinQ
.
Moving on to hardware details, the Snapdragon 845 is seemingly present, although it's unclear at this point what storage configurations will be offered. Perhaps more interestingly, though, is the included camera setup. Previously, it was rumored that LG's next flagship would include
three cameras on the rear
and two up front. However, this is contradicted vastly by the firmware files that list only one front camera and two rear ones. As pointed out by
XDA Developers
, though, this misalignment of details could simply be because the firmware files are incomplete.
Currently, those who may be interested in the LG V40 ThinQ can expect an announcement to take
later on next month
at an event designed to attract the most media attention while also distracting from the respective launches expected
from Apple
, Huawei, and
Google
.