LG Optimus L3 discovered, serves Android on the cheap
1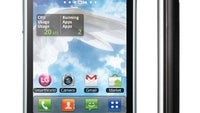 Thanks to a listing on a Swedish retailer's web page, we now know that another smartphone is about to join the LG Optimus family soon. It won't impress with anything, however, other than its price tag. The device in question is known as the LG E400 Optimus L3 and can be pre-ordered for roughly $190.
In return, you get an entry-level Android 2.3 Gingerbread smartphone. Its 3.2-inch display has a resolution of 240 by 320 pixels and the modest camera on its back is of 3 megapixels. Nothing is mentioned about the processor inside it, but we doubt it would be anything spectacular. Hooking up to the internet is done either over Wi-Fi or via the smartphone's 3.6Mbps HSPA radio.
Unfortunately, we have no idea whether the LG Optimus L3 will ever make it to the U.S. or will be sold only on the other side of the Atlantic. Perhaps, we will know more if the handset gets shown off at MWC next month.