LG Optimus 3D 2 press shot leaks showing a slim body, might carry a high-res IPS-LCD display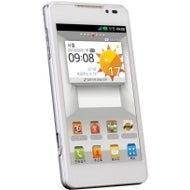 The
LG 3D MAX
aka Optimus 3D 2 has oozed a press shot of its sexy interior (for a 3D-capable phone, that is), and it seems like an interesting upgrade to the first 3D phone that was announced at last year's MWC expo.
There should be a parallax-barrier layer that will allow you to watch 3D content without glasses, and two rear cameras to shoot in 3D, as well as a number of 2D-to-3D convertors, editors and other software related to the third dimension.
The handset is bound to appear in Korea first for SK Telecom, but should make its way to the rest of the world pretty soon afterwards, if last year's announcement is any indication. We should have the LG Optimus 3D 2 officially announced at teh MWC expo in two weeks, and we'll be there to relay the 3D-fun to you.