LG G4 vs LG G3 vs Apple iPhone 6: specs comparison
6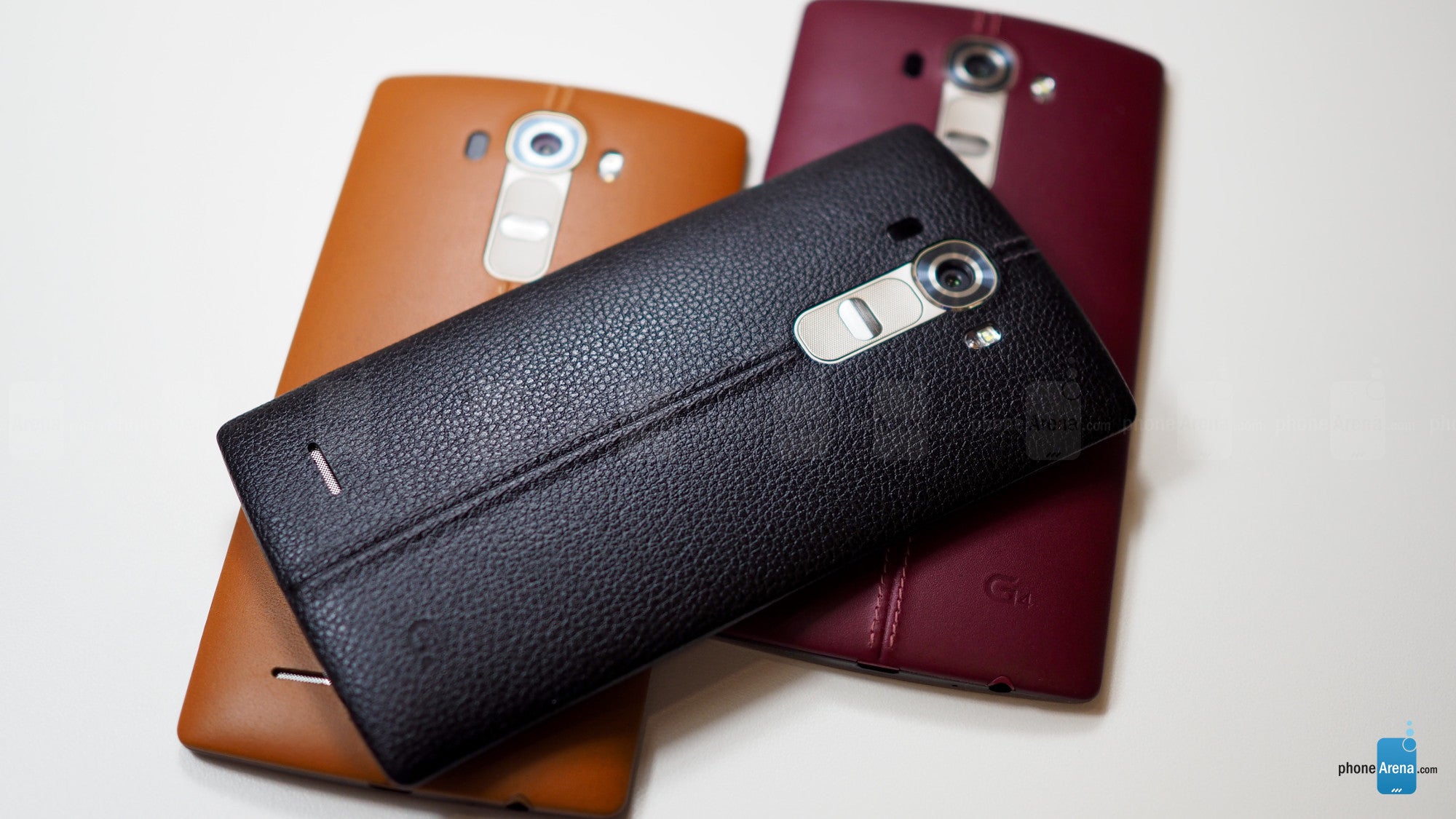 The newest LG flagship, the
G4
, will play a pretty important role in LG's portfolio, as it will be the company's answer to the best that Samsung, Apple, and their ilk will unleash on the market.
As such, the Android gladiator will most probably have a pretty hard time on the arena, as some may argue that it's not boasting many new features and specs improvements in comparison with the
LG G3
.
And what's a better way to compare several devices than check out their neatly-organized specs sheets? That's what we are going to do right now, we're about to put the LG G4's specs sheet next to the one of the G3 in order to nit and pick at all of the specs of the two handsets. We've also thrown in an
iPhone 6
for a good measure.
500 cd/m2 (nit)
500 cd/m2 (nit)
Oleophobic coating, Scratch-resistant glass, Ambient light sensor, Proximity sensor
Oleophobic coating, Scratch-resistant glass, Ambient light sensor, Proximity sensor
Scratch-resistant glass, Ambient light sensor, Proximity sensor
Apple A8
Qualcomm Snapdragon 801 8974-AC
Qualcomm Snapdragon 808 MSM8992 (20 nm)
Dual-core, 1400 MHz, Cyclone ARMv8-A 2nd gen., 64-bit
Quad-core, 2500 MHz, Krait 400
Hexa-core, 1800 MHz, ARM Cortex-A57 and ARM Cortex-A53, 64-bit
PowerVR GX6450
Adreno 330
Adreno 418
128GB, not expandable
32GB
32GB
iOS (12.x, 11.x, 10.x, 9.x, 8.x)
Android (6.0 Marshmallow, 5.1 Lollipop, 5.0 Lollipop, 4.4.2)
Android (6.0 Marshmallow, 5.1 Lollipop), LG UX UI
Qualcomm Quick Charge 2.0
19.00 hours
the

average

is 17 h (996 min)
18.50 hours
the

average

is 17 h (996 min)
10.4 days (250 hours)
the

average

is 20 days (472 h)
22.8 days (548 hours)
the

average

is 20 days (472 h)
14.00 hours
the

average

is 19 h (1110 min)
21.00 hours
the

average

is 19 h (1110 min)
23.0 days (553 hours)
the

average

is 0 days (0 h)
25.0 days (600 hours)
the

average

is 0 days (0 h)
3G: 10 hours; LTE: 10 hours; Wi-Fi: 11 hours
Single camera
Single camera
Single camera
8 MP (Sapphire crystal lens cover, PDAF, BSI sensor)
13 MP (OIS, Laser autofocus, BSI sensor)
16 MP (OIS, Laser autofocus)
Aperture size: F2.2; Focal length: 29 mm; Sensor size: 1/3"; Pixel size: 1.5 μm
Aperture size: F2.4; Focal length: 29 mm; Sensor size: 1/3.06"; Pixel size: 1.12 μm
Aperture size: F1.8; Focal length: 28 mm; Sensor size: 1/2.6"; Pixel size: 1.12 μm
1920x1080 (Full HD) (60 fps), 1280x720 (HD) (240 fps)
3840x2160 (4K UHD) (30 fps), 1920x1080 (Full HD) (30 fps)
3840x2160 (4K UHD) (30 fps), 1920x1080 (Full HD) (30 fps), 1280x720 (HD) (120 fps)
Time-lapse video, Continuous autofocus, Picture-taking during video recording, EIS, Video calling, Video sharing
OIS
OIS, Continuous autofocus, Picture-taking during video recording, Video light, Video calling, Video sharing
1.2 MP
2.1 MP
8 MP
1280x720 (HD)
1920x1080 (Full HD)
1920x1080 (Full HD) (30 fps)
5.44 x 2.64 x 0.27 inches (138.1 x 67 x 6.9 mm)
5.76 x 2.94 x 0.35 inches (146.3 x 74.6 x 8.9 mm)
5.86 x 3.00 x 0.39 inches (148.9 x 76.1 x 9.8 mm)
4.55 oz (129.0 g)
the

average

is 6.5 oz (184 g)
5.26 oz (149.0 g)
the

average

is 6.5 oz (184 g)
5.47 oz (155.0 g)
the

average

is 6.5 oz (184 g)
Back: Aluminum
Back: Plastic
Back: Plastic
Notification light, Interchangeable covers