LG G3 vs Apple iPhone 5s vs LG G2: specs comparison
7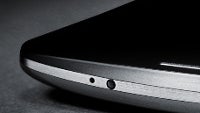 LG has finally officially taken the cover off the G3, the first phone with a Quad HD (2560 x 1440-pixel) screen. After countless leaks and rumors, we now know all the specifications and technical details about the LG G3, and it's time to compare it against one of its top competitors, the Apple iPhone 5s.
The two are vastly different: the G3 with its large, 5.5-inch display represents the modern, 2014 device, large and perfectly prepared for your web and media consumption needs, while the iPhone represents a more pocketable format, easier to use on the go and single-handedly.
Apart from the obvious difference in resolutions, you can see what is it under the hood that makes each of the two tick.
In this specs comparison, we have also included the LG G2, LG's last year's flagship, to show you how the G3 has evolved from it. Take a look below.
500 cd/m2 (nit)
450 cd/m2 (nit)
Oleophobic coating, Ambient light sensor, Proximity sensor
Scratch-resistant glass, Ambient light sensor, Proximity sensor
Oleophobic coating, Scratch-resistant glass, Ambient light sensor, Proximity sensor
Apple A7 (28 nm)
Qualcomm Snapdragon 800 MSM8974
Qualcomm Snapdragon 801 8974-AC
Dual-core, 1300 MHz, Cyclone, 64-bit
Quad-core, 2260 MHz, Krait 400
Quad-core, 2500 MHz, Krait 400
PowerVR G6430
Adreno 330
Adreno 330
64GB, not expandable
32GB
32GB
iOS (12.x, 11.x, 10.x, 9.x, 8.x, 7.x)
Android (5.0 Lollipop, 4.4.2, 4.2.2)
Android (6.0 Marshmallow, 5.1 Lollipop, 5.0 Lollipop, 4.4.2)
34.30 hours
the

average

is 11 h (660 min)
19.00 hours
the

average

is 11 h (660 min)
10.4 days (250 hours)
the

average

is 29 days (688 h)
34.2 days (821 hours)
the

average

is 29 days (688 h)
22.8 days (548 hours)
the

average

is 29 days (688 h)
10.00 hours
the

average

is 0 h (0 min)
21.30 hours
the

average

is 0 h (0 min)
21.00 hours
the

average

is 0 h (0 min)
34.4 days (826 hours)
the

average

is 0 days (0 h)
23.0 days (553 hours)
the

average

is 0 days (0 h)
25.0 days (600 hours)
the

average

is 20 days (472 h)
Single camera
Single camera
Single camera
8 MP (Sapphire crystal lens cover, Autofocus, BSI sensor)
13 MP (Sapphire crystal lens cover, OIS, Autofocus, BSI sensor)
13 MP (OIS, Laser autofocus, BSI sensor)
Aperture size: F2.2; Focal length: 29 mm; Sensor size: 1/3"; Pixel size: 1.5 μm
Aperture size: F2.4; Focal length: 29 mm; Sensor size: 1/3.06"; Pixel size: 1.12 μm
Aperture size: F2.4; Focal length: 29 mm; Sensor size: 1/3.06"; Pixel size: 1.12 μm
1920x1080 (Full HD) (30 fps), 1280x720 (HD) (120 fps)
1920x1080 (Full HD) (60 fps)
3840x2160 (4K UHD) (30 fps), 1920x1080 (Full HD) (30 fps)
Time-lapse video, Picture-taking during video recording, EIS
OIS
OIS
1.2 MP
2.1 MP
2.1 MP
1280x720 (HD)
1920x1080 (Full HD) (30 fps)
1920x1080 (Full HD)
4.87 x 2.31 x 0.30 inches (123.8 x 58.6 x 7.6 mm)
5.45 x 2.79 x 0.35 inches (138.5 x 70.9 x 8.9 mm)
5.76 x 2.94 x 0.35 inches (146.3 x 74.6 x 8.9 mm)
3.95 oz (112.0 g)
the

average

is 6 oz (171 g)
5.04 oz (143.0 g)
the

average

is 6 oz (171 g)
5.26 oz (149.0 g)
the

average

is 6 oz (171 g)
Back: Aluminum
Back: Plastic