LG G3 leaks, the Samsung Galaxy K Zoom is announced, and why Samsung owes Apple $119.6 million: weekly news round-up
12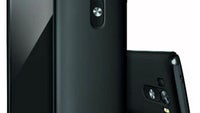 May 27 – that is most likely the day when we'll witness the announcement of LG's new flagship smartphone. Last week, the company announced a press event for the said date, hinting that something very exciting is going to be unveiled at it. Wondering what the handset is going to look like? Well, wonder no more as (what is said to be) the
LG G3
already leaked in a set of photos. And yes, like it or not, LG is sticking with its buttons-on-the-back design.
Samsung also made headlines last week. The Korean tech giant announced its
Samsung Galaxy K Zoom
– a mash-up between a smartphone and a camera and a successor to last year's
Samsung Galaxy S4 Zoom
. With its 20MP camera sensor and 10x optical zoom lens, it looks like this gadget may give the top cameraphones a run for their money. And in the meantime, Apple became $119.6 million richer. Follow the links below to find out more!