LG G2 sent to space to film Earth on its 13-megapixel OIS camera
27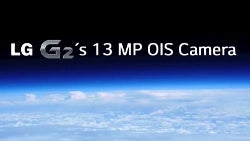 The
LG G2
is the first handset to feature a 13-megapixel camera with optical image stabilization (OIS) and we've seen the gorgeous
first samples
. Now, LG has decided the G2 has such a great camera, it could as well go the extra mile and do something special to show its capabilities. We've seen it done before
with other handsets
, but this time the LG G2 flew into space to film and share the journey, and show off its camera along the way.
The end result is nothing short of amazing. The G2 flew attached to a balloon and reached first the troposphere at around 6 miles up in the sky capturing the silky white clouds, but did not stop there and shot up to the stratosphere, the freezing cold next layer of Earth's atmosphere where you can see the blue halo surrounding our planet.
Ogle at all that glorious footage right below.
source:
LG