Kyocera Milano Hands-on
1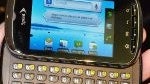 When it comes to budget conscious devices, there's no question that Kyocera is simply one of those manufacturers that come to mind, but every now and then, they dip their fingers into the smartphone realm. Unlike their unique looking Kyocera Echo, their offering in the
Kyocera Milano
is a bit more laid back with its
landscape style QWERTY form factor
and its affordable cost of only
$49.99
with a 2-year agreement.
Even though it seems a bit on the thick side, the Kyocera Milano is surprisingly a
lightweight and compact
feeling Android 2.3 Gingerbread handset – however, its
cheap
plastic exterior doesn't exude that solid feel. Nevertheless, the landscape slide-out keyboard snaps into place showing off its modest 4-row keyboard layout. Sporting some odd shaped buttons, it still provides a good amount of feel and feedback when pressed. Rather than using capacitive Android buttons, we're presented instead with some physical ones that happily greet out fingers with a decent tactile response. In the end, it's not something that blows us away, but rather, it'll appease that segment of the population that's heavy into text messaging with the light features of a modernized smartphone. Maybe it's a good solution for kids and teenagers?
For its price, you basically get a handset that features a 3" QVGA display, 800MHz processor, 512MB of RAM, 3.2-megapixel camera, Bluetooth 2.1 with EDR, Wi-Fi, and a microSD card slot. Fortunately, Kyocera doesn't tinker around much with the interface since it packs the stock Android 2.3 Gingerbread – albeit, it does offer Sprint's set of ID packs for a sprinkling of personalization.